Yana Rocks? Did not hear the name! No! Yana caves? No, not this either! This was my reaction when a senior colleague and friend of mine suggested this place to me for the first time. Not that I had any doubts in my mind as the colleague was an accomplished photographer himself still the narratives mentioned by him about this little-known place were too good to believe at first! The only belief was that none of his earlier suggestions were off the mark, even slightly! And it was this belief that made the novice photographer in me to try this place! Convincing two other equally enthusiastic friends to visit Yana Rocks with me was the easiest part considering all of us were beginners in photography, off curse in our own amateurish way, say by hit and trial method to be precise! Ok, all of us had this secret desire of creating some masterpiece someday! Maybe the desire sits deep inside in all of us!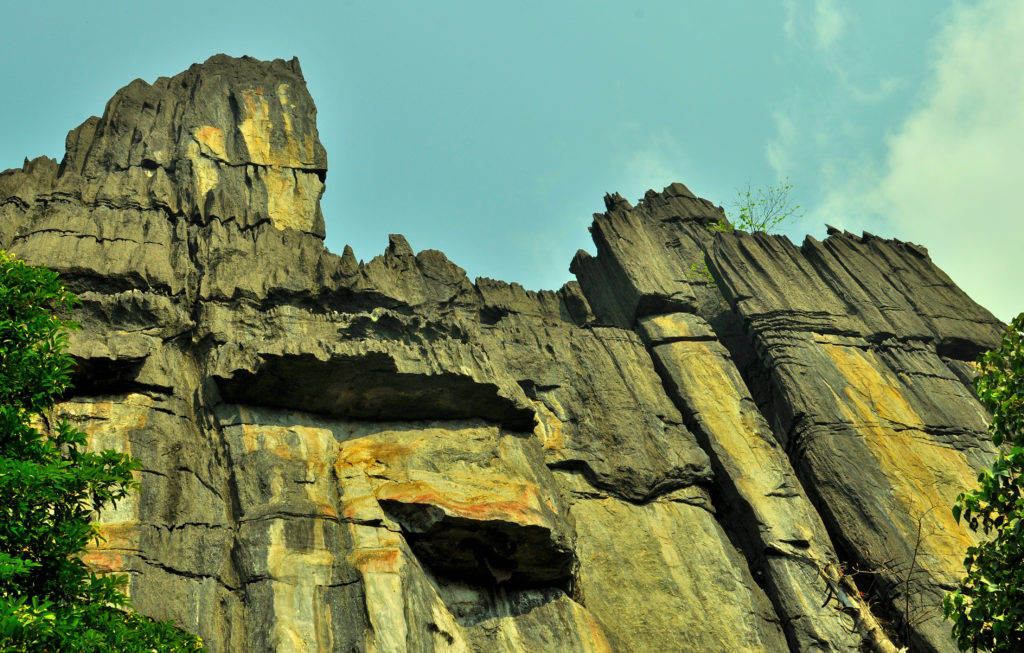 Well, keeping all this in mind we finalized a day and wonder of wonders all of us overcame the biggest challenge of getting up early! Visiting Yana Rocks at sunrise was the special recommendation by this senior colleague of mine. Being at Karwar, a small and beautiful coastal town at Karnataka- Goa border helped immensely in terms of distance.  So here all three, ready, locked and loaded well before the sunrise. The enthusiasm to visit a place for the first time was all palpable.  We had to cover the distance of 87 KMs from Karwar to reach Yana. As we drove by the Arabian Sea through the winding coastal road the yearning for a hot cup of tea kept on increasing. We eventually stopped at a small dhaba by NH 66 (earlier NH 17) near Gokarna and quickly had our tea with some locally made biscuits. It was still dark but the watch said it's already 5.30 AM. The sun takes a little more time to come over the mighty Western Ghats! And this simply meant we had little extra time than people living along the east coast before the sun comes out with all its glory.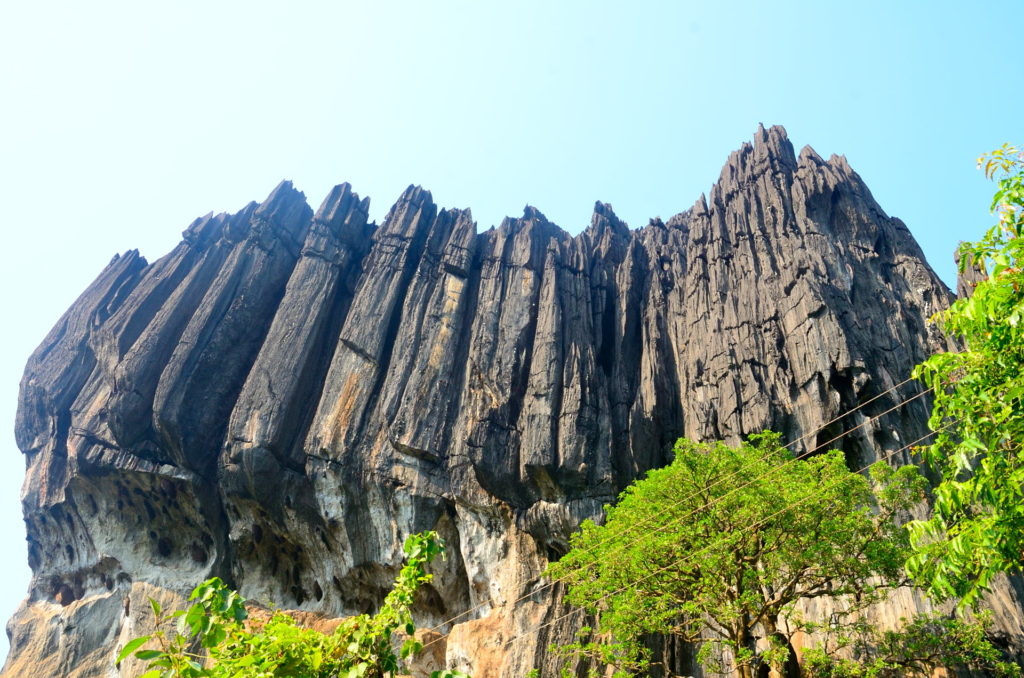 We took left from NH 66 near Kumta and through narrow, densely forested village road reached the gates of Yana Rocks and Caves by the daybreak. The sun was yet to be seen. Yippee! We were on time! No vehicles were allowed beyond this parking area where the gate is situated. Thus started our trek of 1.5 KM from the parking spot. Though the trek is of easy to moderate difficulty level the last stretch was the toughest as we needed to climb very steep stairs and it required a lot of effort for us to reach the caves through the densely forested path. After a lot of huffing and puffing during the last stretch we finally reached the base of this giant rock formation. We reached the base of the 120 meters (390 ft) high single rock formation called Bhairaveshwara Shikhara. Just opposite Bhairaveshwara Shikhara, beside the stairs we just took was the 90 meters (300 ft) high Mohini Shikhara where the first rays of the sun were just falling laterally at the topmost part. and then the magic started! The colours and shadows made by sun rays were changing as the sun came up in the sky. Awestruck at the beginning we quickly mounted our cameras on respective tripods and started capturing as many moments as possible. It took a while before the Sun took over and initial plays of shadow and light gave way to the total brightness.  All of us were able to get a few decent shots. It was only after this we came to realize the importance of this place also as a holy place.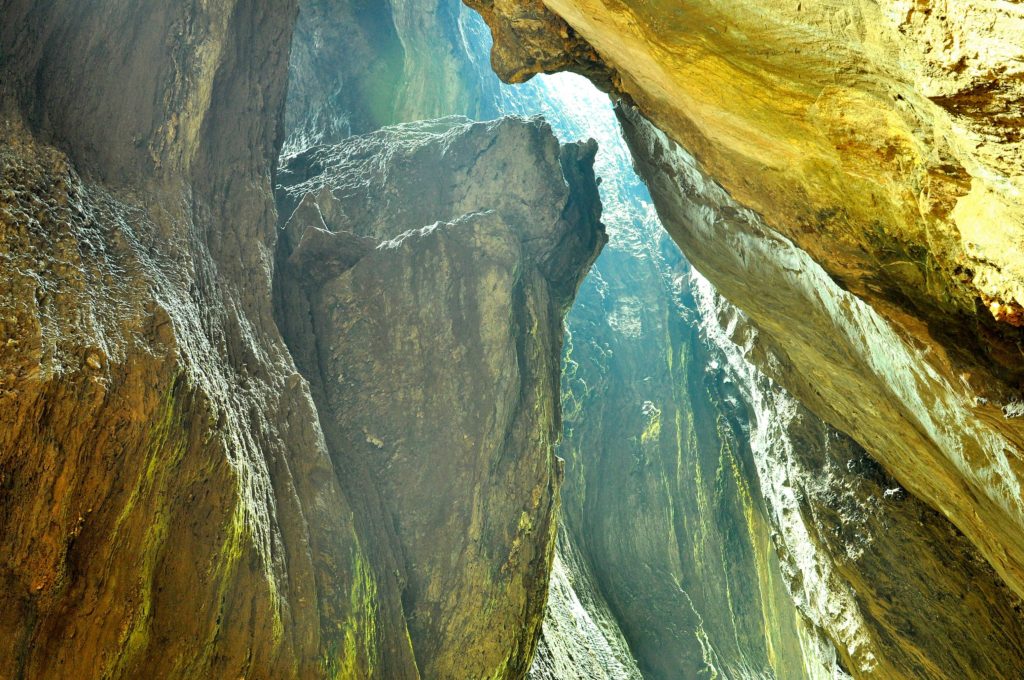 It is popularly believed that the demon King Bhasmasura owing to his austere penance got a boon from Lord Shiva that if he places his hands on anyone's head the person would be burnt to ashes. Elated by this he tried to test his boon by placing his hand over the head of Lord Shiva, his patron. He chased Lord Shiva from his heavenly abode. To save himself from his own protégé Lord Shiva sought the help of Lord Vishnu. Lord Vishnu took the form of a beautiful lady called Mohini and challenged Bhasmasura for a dance competition. Infatuated by her beauty Bhasmasura accepted the challenge. An intense dance competition held and in the flow Bhasmasura placed his hands over his own head and thus burnt to ashes instantly. It is said that the heat of this burning was so intense that it turned the two nearby rocky outcrops completely black! Thus the colour of these two rock formations appears to be on the darker side!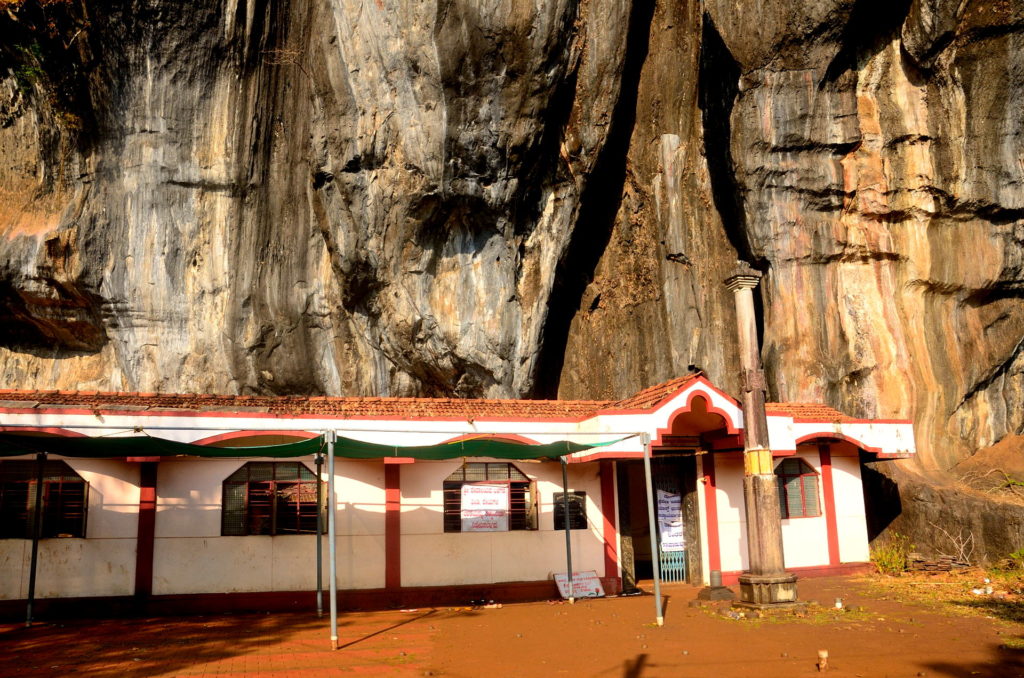 There is a cave temple below the Bhairaveshwara Shikhara where a Swambhu or self-manifested Shiva Linga has been formed. The natural water dripping from the roof of this cave over the Shiva Linga adds to the sanctity of this place. The cave had just enough light to navigate from one end to another. Although Yana is one of the wettest and also the cleanest village in Karnataka it is known to people more for these two rocky outcrops made up of black crystalline karst limestone, weathered by rain, wind and the Sun known as Bhairaveshwara Shikhara and Mohini Shikhara.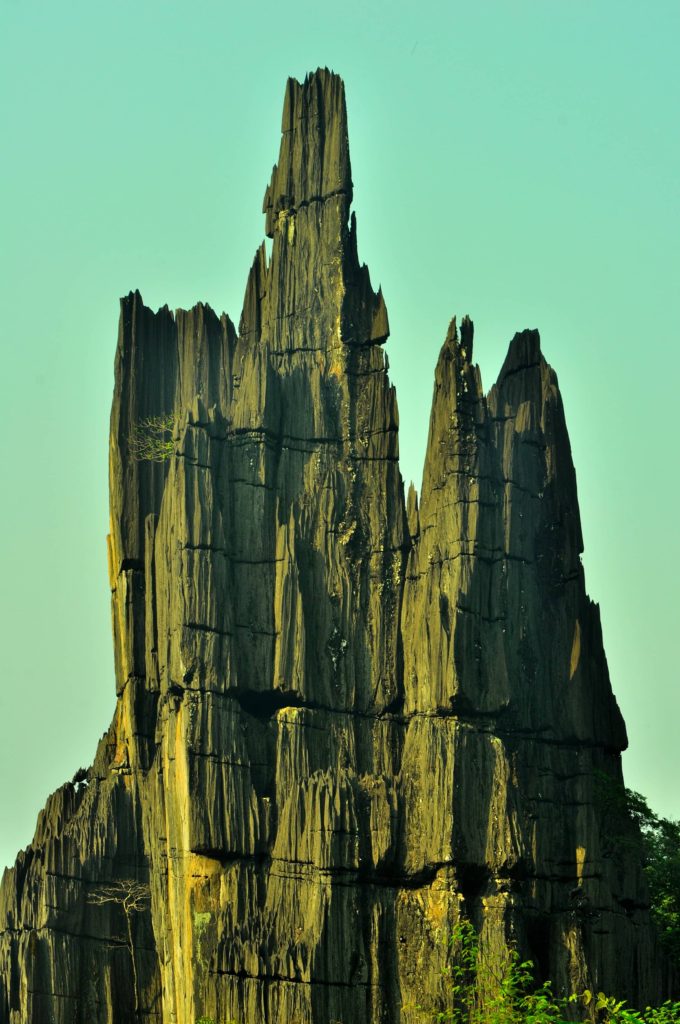 We had a gala time there with almost no one present except the three of us.  The photo session was good, at least our expectations of that time were met! We came back happily. The lone shop near the parking lot served us refreshing Kokum (Garcinia Indica) Sharbat, a cool drink available during the summer months in coastal areas. After all that hiking and sweating profusely this drink provided the well deserved and also much-needed dose of energy to drive back.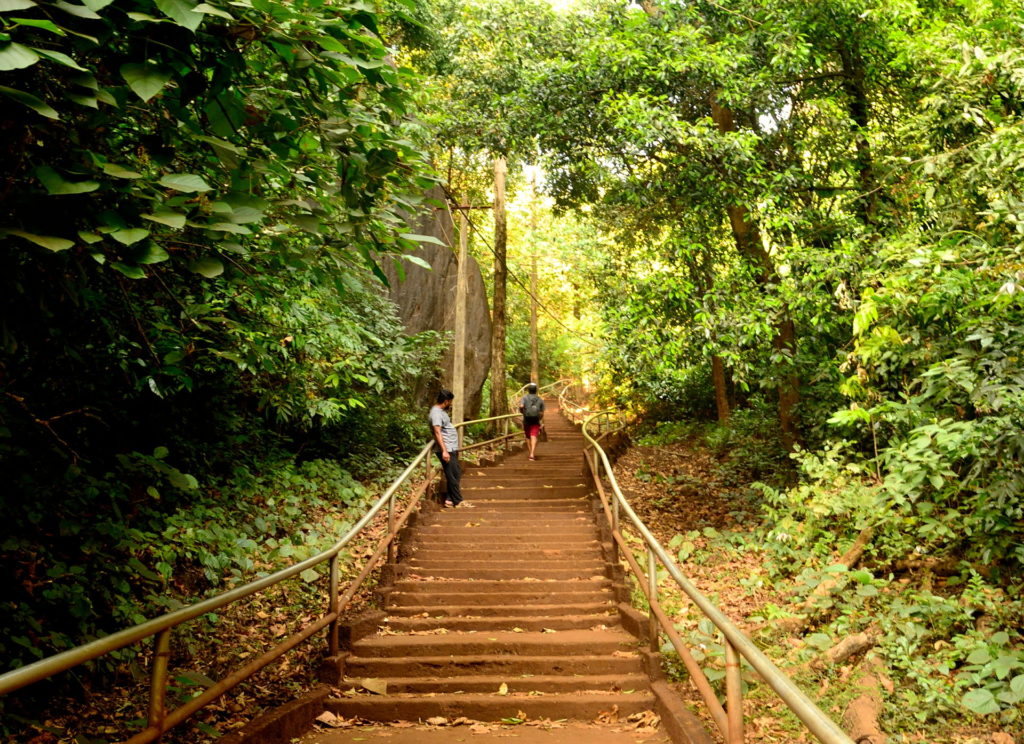 After this initial adventure, if I might call it, I visited this place a couple of times more. The place, the routes and the adventure have thankfully remained the same although some basic developments have been taken place over the period of time. The rustic feeling of adventure especially going inside the cave from one end and coming out from the other is still very much present there.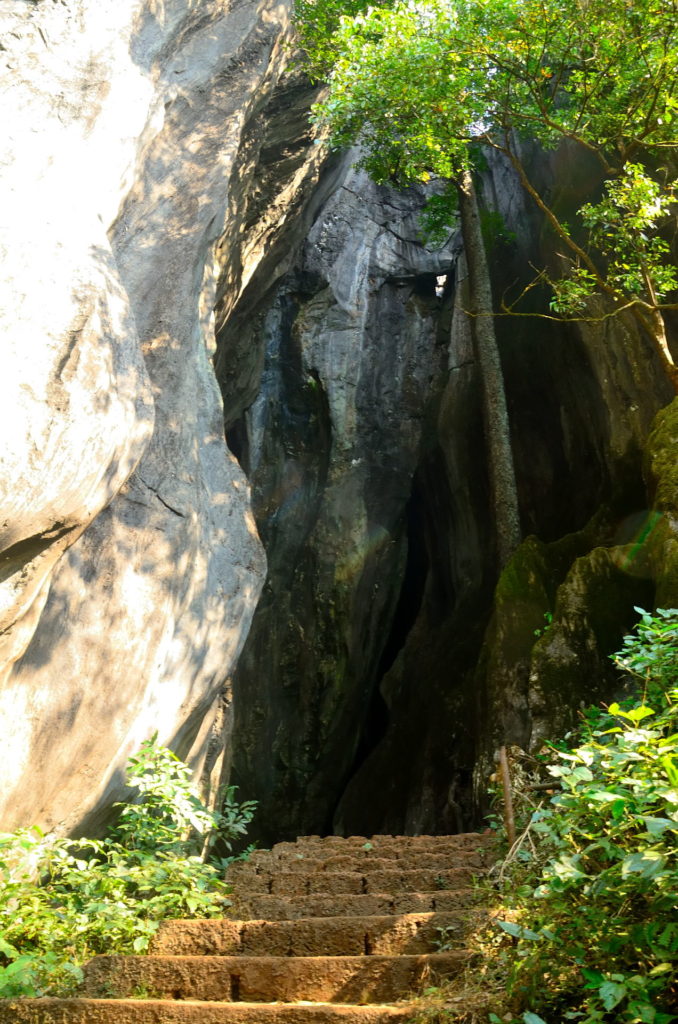 During the festival of Maha Shivaratri celebrated in the month of Phalguna as per the Hindu calendar which roughly falls between the end of February and the first half of March every year this place abounds with a large number of devotees of Lord Shiva which turn this otherwise calm place into a place with vibes of festivity all around. Yana caves can be equally attractive to a naturalist or a bird watcher or a writer or a simple tourist, all for the same reason- the beauty, serenity and natural biodiversity of this place!
How to Reach:
By Rail- Nearest major railway stations are Kumta (30 KM) where most express trains and all local trains stop. All trains stop at Karwar (75 KM from Kumta station) and Madgaon (Goa) (132 KM from Kumta station).
By Road- Distance (of Yana Caves) from Kumta is 30 KM, Karwar -88 KM, Madgaon-150 KM and from Mangalore- 225 KM. Frequent bus services are available till Kumta from there a few buses go till the parking lot of the caves but the frequency is limited. The best option is to get an auto-rickshaw or taxi from Kumta. One can also hire a scooter or bike from Gokarna town which is 47 KM from the Yana Caves.
Where to stay- The place has no hotels although a few homestays are available in nearby villages. However, Kumta has a few decent hotels. Gokarna has a good number of hotels suiting all types of budgets. Online booking is also available from all popular hotel booking apps.
Precautions- Reaching Yana caves involves hiking so be ready to hike for about 1.5 KM one way. While coming down is easier the hike towards the cave is of easy to moderate difficulty level especially during the last stretch where one has to climb around 400 very steep stairs to reach the cave temple. It tests the fitness level! The hike does not have any shops so it is highly recommended to carry some water and a few eatables with you. The shop in the parking area sells water bottles but it is advisable to carry your own water. The place is heavily forested and receives heavy rainfall during the monsoon season so make sure the place is open for hiking during this time. Be careful with leeches during the rainy season and during the months just after the monsoon. Yana is also the cleanest village in Karnataka. Hence please do not litter and except your footmarks leave nothing behind!
Nearest Places of Interests– Gokarna- 50 KM, Sirsi Town- 61 KM, Vibhuti Waterfalls- 76 KM, Jog falls-108 KM.